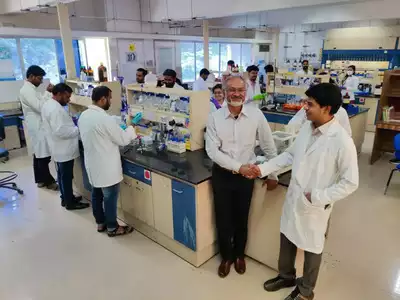 BENGALURU: More than a year after Jawaharlal Nehru Centre for Advanced Scientific Research (JNCASR) scientists developed a drug molecule to prevent the mechanism rendering neurons (brain cells) dysfunctional in Alzheimer's disease (AD), its IP (intellectual property) has been transferred to a Delhi-based pharma company.
Hamsa Biopharma, which will take the drug — Christened TGR63 — to trials through its parent company in the US, IGC Pharma, hopes it can eventually be made available in the market.
The TOI was the first to report about professor T Govindaraju and team developing 'TGR63' in its February 26, 2021 edition. Although available treatments in the market provide temporary relief, there are no approved drugs that directly act on disease mechanisms of AD, which both JNCASR scientists and Hamsa believe 'TGR63' has the potential to do.
Ram Mukunda, CEO, IGC Pharma, told TOI: "We got in touch with Prof Govindaraju after learning about the molecule, which we believe can be a game changer, in March-April 2021. We analysed the molecule, the study and findings and our experts found there to be potential."
Drug Candidate
Govindaraju, reiterating how 'TGR63' holds potential to halt or cure the leading cause of dementia, explained that in the Alzheimer's brain, abnormal levels of naturally forming protein clump together to form plaques that collect between neurons and disrupt cell function.
"…This is caused by production and deposition of a protein called amyloid peptide (Aß) that accumulates in the central nervous system. The multifactorial nature of AD has prevented researchers from developing effective treatment so far, but we now have a candidate which could reduce Aß toxicity," he added.
JNCASR has already established — through lab and animal (mice) tests — that 'TGR63' can rescue neuronal cells from amyloid toxicity.
"Mice brains affected with AD, when treated with 'TGR63' showed significant reduction of amyloid deposits, validating its therapeutic efficacy. Mice also showed reduction of learning deficiency, memory impairment, and cognitive decline as revealed by distinct behavioural tests. These key attributes validate the potential of 'TGR63' as a promising drug candidate for AD," Govindaraju reiterated.

What Next
Mukunda said that the firm will start testing the molecule for toxicity and absorption, in primates. "Once we can document all the data and show it is safe when used on primates, which is a process that should take about a year, we can proceed with Phase-I trials in humans. Here, we'd test the molecule for safety and tolerance in humans," he said.
He said the firm would put the testing on fastrack and in about 12 months or so it would be ready for seeking regulatory approval for Phase-I trials in humans.
"Once approved, that process is expected to go on for another year, where we would essentially test for safety among different groups. While the initial tests will happen in India, we may have to shift the same to the US, Canada or South America for trials in primates and humans," Mukunda said.
After the safety trials, the firm would apply for clearance to get into Phase-II human trials — testing for efficacy — the protocols for which would be prepared in consultation with Prof Govindaraju's team and other experts from JNCASR.

"Phase-II trials could take 24-30 months, after which we would be ready with a product that could help hundreds of thousands of people across the globe. We are positive about the molecule working and the work done at JNCASR is truly path-breaking," Mukunda said.
Source
https://timesofindia.indiatimes.com/india/alzheimers-delhi-pharma-company-gets-bengaluru-scientists-drug-candidate/articleshow/91505590.cms